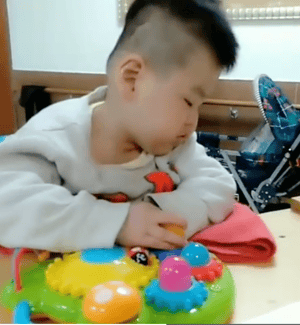 Myles recently celebrated his 4th birthday and will be participating in our upcoming virtual Superkids trip. This means we will be getting extra advocacy information on him so stay tuned to our Superkids blog for updates!
Myles is a sweet young boy who giggles when he is tickled. He eats mashed foods throughout the day and sleeps soundly and regularly at night. When lying in bed he will play with his own feet or bite on teether toys. We also hear that he is easily amused. Myles was born prematurely and as a result has various medical conditions including epilepsy, hearing impairment, and global developmental delays. Myles has yet to attend school however he is receiving 30 minutes of occupational and physical therapy at a local hospital every week.
Are you the loving and caring family with the ability to meet his needs? To learn more about Myles, please contact superkids@gladney.org for more information! Also, be sure to join our Taiwan Waiting Child Advocacy group on Facebook to see his photos and videos!!