12 Year Old, Female, White/Caucasian, TARE #107472
Abigail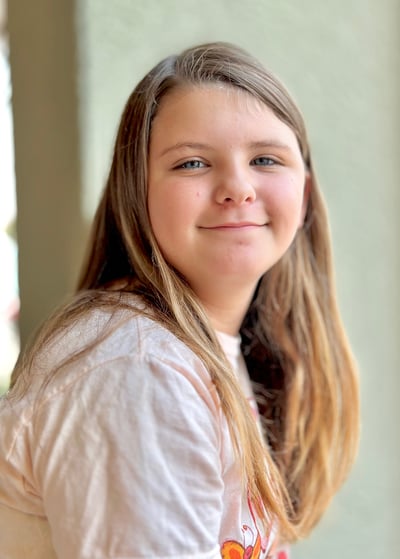 Abigail loves to draw and be creative with her drawing using multiple types of media. She enjoys using her imagination to write her own fiction stories. Abigail loves to watch YouTube videos to get a good laugh and find fashion and trends. She loves shopping and creates her own fun outfits once she finds the latest trends. Abigail also enjoys getting her nails done at the salon while being pampered. She likes to wrap up a day of shopping with a trip to a restaurant to enjoy chicken wings and French fries. She likes to order some ice cream or a dessert paired with ice cream. Abigail enjoys collecting and cuddling with her stuffed animals as they are comforting to her. She loves talking on the phone and would love an iPhone to keep up with her peers. During the summer, Abigail enjoys swimming to keep cool in the Texas heat. When the weather is nice, she likes to go horseback riding, hiking, and exploring nature.
Abigail's family can reside in the city, but it will be ideal if they allow her to experience somewhat of a country life, despite the location, and have some type of animal. She prefers to be the youngest child in the home and will do well in an ideal home with older children. On another note, she would do well in a home where she's the only child. Abigail will thrive in a two-parent household whether she has two mothers, two fathers, or a mother and father. She will also do well in a single-parent household with a single mother or father. Abigail will thrive in a family with any race. Her family will ensure they treat her as their own and commit to her.
I am a bright, fun, loving girl who loves to get my nails and hair done.
| | | | |
| --- | --- | --- | --- |
| | | | |
| Information Meeting | Choose Agency | Application & Family Home Study | PAT Training |
| You will need to attend an information meeting in your area where you will get the basic information about adopting a child from Texas Foster Care. | Choose a child-placing agency to assist you in adopting a child from Texas Department of Family & Protective Services. | Gladney will help you complete the application process, which includes paperwork, personal references, medical history and a home study. | Parent Adoption Training is a required course for parents who wish to adopt a child from the state foster care system. This three day competency-based program is designed to prepare prospective adoptive parents for the challenges of parenting children that have experienced past trauma. |