13 Year Old, Female, Black/African American TARE #95486
Jakayla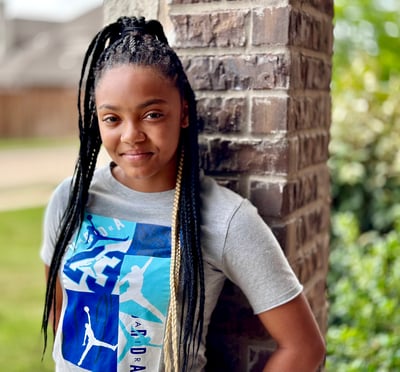 Meet Jakayla! Her friends call her "KK." She is a very animated, sociable, and personable young lady. She is very intelligent and wants to be an oncologist when she grows up. She does well in school and loves participating in all the sporting activities, such as volleyball, basketball, cheer, and track. Jakayla loves animals and participated in her school's AG program a few years ago and showed her pig. One day Jakayla hopes to have her own dog. She likes keeping in touch with her friends on her phone and enjoys other activities such as ice skating, shopping, and getting a manicure. She has always wanted to travel and would love to visit the Pacific Ocean. Jakayla has a good sense of humor and loves to crack jokes and be silly. She also loves the jokes of others and watching funny movies. She enjoys being the center of attention and loves shining in the spotlight.
Jakayla will do well in a two-parent home where she is able to receive the attention and love that she deserves. Jakayla would do well in a household with either children younger than her or male children older than her. She prefers not to be the only child in the house as she doesn't want the attention solely on her. She responds well to clear expectations and exceeds when people trust her. She would love to have an active family that will encourage her to participate in activities that will improve her self-esteem and social skills. Jakayla's family will be patient with her as she settles in, not give up on her and provide stability.
I am smart, creative, happy, and funny. I desire to be an oncologist when I grow up!
| | | | |
| --- | --- | --- | --- |
| | | | |
| Information Meeting | Choose Agency | Application & Family Home Study | PAT Training |
| You will need to attend an information meeting in your area where you will get the basic information about adopting a child from Texas Foster Care. | Choose a child-placing agency to assist you in adopting a child from Texas Department of Family & Protective Services. | Gladney will help you complete the application process, which includes paperwork, personal references, medical history and a home study. | Parent Adoption Training is a required course for parents who wish to adopt a child from the state foster care system. This three day competency-based program is designed to prepare prospective adoptive parents for the challenges of parenting children that have experienced past trauma. |