Myles joined our most recent virtual Superkids trip and we are very excited to announce that we have much more information to share with you! Don't forget to tune in for our Facebook live presentation of Myles on Tuesday, March 16!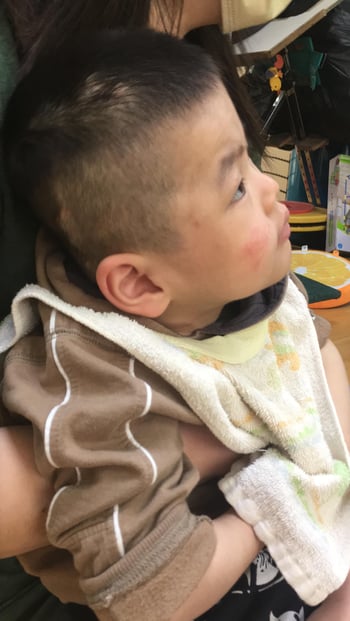 Myles was just starting to wake up at the beginning of our Zoom call and as his caregivers slowly nudged and tickled him, he showed us the biggest smile and sweetest little giggle. Four-year-old Myles is not speaking, but we learned from his caregivers that he is a quite boy who prefers not to be disturbed. His favorite toy is his teether, he likes being tickled, and dislikes being moved around.
Myles diet consists of mashed foods, his favorite being fruits. Myles spends most of his time in his bed or in a support chair. Because he is only allotted one therapeutic device per year, he doesn't currently have a child walker. With more opportunities to put weight on his legs, he may possibly have the potential for assisted walking in the future.
Myles was born prematurely and has been diagnosed with global developmental delays, cerebral palsy, epilepsy, hydrocephalus and hearing impairment. Myles resides in a nursing home and receives 30 minutes of occupational and physical therapy at a local hospital each week. We still have much more information on Myles so please contact superkids@gladney.org for more information! Also, be sure to join our Taiwan Waiting Child Advocacy group on Facebook to see his updated photos and videos! Could your family be the one he needs?