15 Year Old, Female, White
Brianna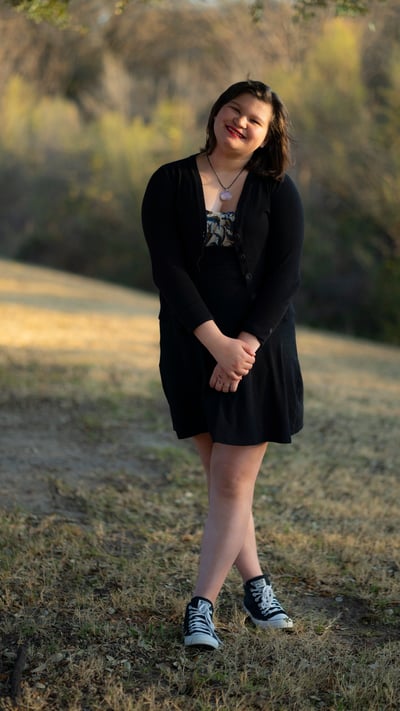 Brianna is a kind and creative 15 year old girl. She enjoys tik-tok dances, K-Pop, and lots of crafts and creativity. Brianna enjoys typical "girly" things such as doing her nails, and make-up. Brianna has a lot of curiosity and sometimes this can get her into trouble. She can become triggered by being told "no" or not getting her way. Brianna needs a lot of structure and routine in her day-to-day life to be successful. Sometimes the many tasks of a normal day can be overwhelming to her. Immediate praise as well as immediate re-direction are most impactful with Brianna. She also needs firm rules and boundaries that she is well aware of. Brianna can be socially awkward and therefore can struggle in a group setting or with other youth her age. She thrives during one-on one time.
Brianna loves music and movies - screen time can help calm her during times of frustration or when she is upset. She likes to take her creativity into the kitchen and cook or create new recipes to try! Brianna also enjoys roller skating, painting, and horses. She has been participating in equine therapy and has done impressively well in the program so that she has now moved up to riding lessons. Brianna needs help keeping her room clean and orderly, something she is able to achieve with consistency and structure. When she has these things, she is able to clean up and organize although at times she is resistant. Brianna is still learning how to fit in with others in her age range and peer group – she will benefit from having some positive influences and role models who will be patient with her and help guide her.

Brianna needs a two-parent home with a predictable routine and lots of structure. She needs parents that have high patience and that will be very attentive and engaging. They should be secure in their parenting as well as their relationship with each other. They will benefit from being able to think outside of the box when it comes to parenting.
Brianna likely needs a family with a stay at home parent that can dedicate a significant amount of time to her schedule and educational needs. Brianna is behind in her schooling and struggles with her grades. A family that can be regularly engaged to provide her with the learning environment that best fits her needs will thrive with her.
Brianna would do well with a family pet as she loves animals. She will enjoy lots of quality time with not only her parents together, but also one on one time. She needs a family that is prepared to teach her normal life skills for a girl her age as well as a family that can be patient with her while she continues to process and heal from her past trauma and experiences.
| | | | |
| --- | --- | --- | --- |
| | | | |
| Information Meeting | Choose Agency | Application & Family Home Study | PAT Training |
| You will need to attend an information meeting in your area where you will get the basic information about adopting a child from Texas Foster Care. | Choose a child-placing agency to assist you in adopting a child from Texas Department of Family & Protective Services. | Gladney will help you complete the application process, which includes paperwork, personal references, medical history and a home study. | Parent Adoption Training is a required course for parents who wish to adopt a child from the state foster care system. This three day competency-based program is designed to prepare prospective adoptive parents for the challenges of parenting children that have experienced past trauma. |