17 Year Old, Female, White/Caucasian, TARE #107031
Emilee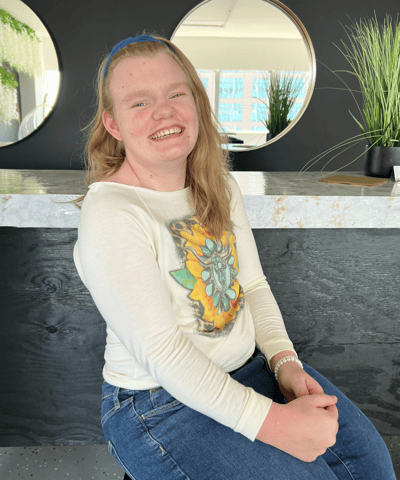 Emilee is a sociable, talkative and creative teenage girl. She describes herself as very outgoing, trustworthy, artistic, and intelligent. She enjoys drawing, doing art, playing card games, listening to music, being outside, going on nature walks, riding four-wheelers, and attending church. Her favorite subject in school is art. She likes children, and babies make her laugh. Her favorite foods are macaroni and cheese, pizza, spaghetti, chicken alfredo, and Chinese and Mexican foods. Emilee is interested in traveling and going to new places. Emilee wants to complete high school and learn life skills, such as doing laundry and picking out her own wardrobe. Emilee hopes to get a job soon. She is open to listening to others for guidance and advice. Emilee will be a great addition to a loving, forever family.
Emilee wants a forever family with a mother and father. Emilee wants to have family game nights, go to church on Sundays and Wednesdays, and travel with her family. Emilee needs emotional support through talking and hugging from her forever family. Emilee needs adoptive parents who are willing to support her academically. Emilee's forever family will encourage her to utilize her coping skills and engage in coloring, writing, nature walks, playing games, listening to music, and talking it out.
I am very outgoing, talkative, trustworthy, artistic, smart, and like little kids and animals. I like being outdoors and riding four wheelers.
| | | | |
| --- | --- | --- | --- |
| | | | |
| Information Meeting | Choose Agency | Application & Family Home Study | PAT Training |
| You will need to attend an information meeting in your area where you will get the basic information about adopting a child from Texas Foster Care. | Choose a child-placing agency to assist you in adopting a child from Texas Department of Family & Protective Services. | Gladney will help you complete the application process, which includes paperwork, personal references, medical history and a home study. | Parent Adoption Training is a required course for parents who wish to adopt a child from the state foster care system. This three day competency-based program is designed to prepare prospective adoptive parents for the challenges of parenting children that have experienced past trauma. |