5 Year Old, Male, Black
KJ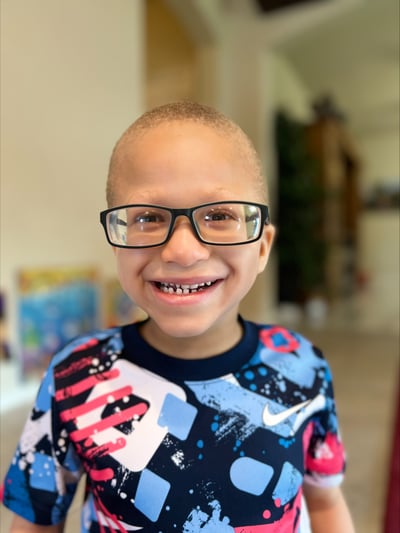 Ka'Maryon is a bubbly and charming little boy. He is known to be a sweetheart to those he is around. He has no issues expressing his love for otheers and likes to give hugs. Ka'Maryon enjoys cartoons. He is a fan of all Disney movies and Despicable Me/ Minions films. He also enjoys playing with toys and reading Dr. Seuss books with caregivers.
Ka'Maryon has Prader Willi Syndrome, a syndrome in the area of his brain that controls eating and filling full. He is currently receiving his nutrients through a g-button but is practicing taking some foods via mouth as well. . He has diagnosis of albinism, legally blind, celiac disease, and obstructive sleep apnea. He currently see specialist for treatment and receives 60 hours of nursing services a week
Ka'Maryon is an energetic and happy kid who does not let his diagnosis slow him down.
Ka'Maryon would benefit being in a two-parent household who is able to provide a loving, caring and safe environment. He will do best in a family that understands the type of medical issues he is facing especially the Prader-Willi Syndrome as this affects his nutritional status as he become older. Family should be able to provide guidance and structure for Ka'Maryon. Parents should posses the ability to advocate on Ka'Maryon's behalf. Parents will be able to offer Ka'Maryon the life-long commitment of nurture and care he deserves.


| | | | |
| --- | --- | --- | --- |
| | | | |
| Information Meeting | Choose Agency | Application & Family Home Study | PAT Training |
| You will need to attend an information meeting in your area where you will get the basic information about adopting a child from Texas Foster Care. | Choose a child-placing agency to assist you in adopting a child from Texas Department of Family & Protective Services. | Gladney will help you complete the application process, which includes paperwork, personal references, medical history and a home study. | Parent Adoption Training is a required course for parents who wish to adopt a child from the state foster care system. This three day competency-based program is designed to prepare prospective adoptive parents for the challenges of parenting children that have experienced past trauma. |