The Gladney Center for Adoption is 130 years old this year! We want to celebrate all year long by sharing fun and interesting facts about our history and culture. Check out these 11 facts that we put together in April.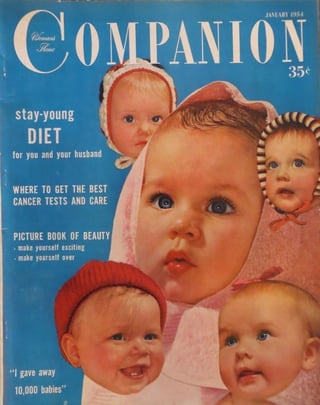 Gladney was once again the subject of national press attention in 1954, when the Woman's Home Companion ran a full-length story on her entitled, "I Gave Away 10,000 Babies."
The teens on the 2011 Service Trip to Costa Rica raised over $22,000 in humanitarian aid! Volunteering is common among Gladney teens which is why we created our Gladney Teen Outreach Program(GTO). Find out more about this wonderful opportunity of community service.
The Transitional Care program has 15 families who volunteer to care for babies. Between the time a baby is discharged from the hospital and placement day, he or she may be cared for by loving Transitional Care Families. These families are volunteers that have opened their hearts and homes to care for Gladney babies and children waiting to be adopted.
In 2009, Gladney named the road coming down the hill on to the Gladney Campus Mike McMahon Way name in honor of his 20 plus years leading the Gladney Center for Adoption.
Many of Fort Worth's Railroad companies gave free passes to Rev. Morris, often called "the man with the basket", to help him in his work. We love seeing and sharing the creative photos of your children. Want to share yours? Email them to news@gladney.org.
The story of Mrs. Gladney's work on behalf of children became the movie, Blossoms in the Dust, starring Greer Garson as Mrs. Gladney and Walter Pidgeon as Sam Gladney.
In 2009, Gladney jumped into the social media world. Today, Gladney has profiles on Facebook, YouTube, Instagram, Twitter, LinkedIn, Pinterest, and Tumblr. Connect with us on your favorite network today!
April 23rd is World Book Day. Did you know that upon her "retirement" in the late 1980s, Ruby Lee Piester, former Executive Director of Gladney, wrote the book, "For the Love of a Child?"
The Board of Directors in the agency's early years were all male. "We have an all-male board," Mrs. Gladney said, "because men are much kinder in their attitude toward unmarried mothers than women." Today, Gladney is grateful for a group of dedicated men and women who believe in the option of adoption and Gladney's leadership in the adoption community.
Gladney was a charter member of the National Council For Adoption (NCFA), which was organized in 1980 to promote agency adoption.
At one point, Mrs. Gladney was so disenchanted by the fictional elements of the movie Blossoms in the Dust, she privately referred to it as "Buds in the Dirt," rather than by its true name, Blossoms in the Dust. Regardless of some fictional elements, Edna Gladney continues to be one of our favorite superheroes.
#GladneyIs130
#130GladneyFacts
for more on Edna Gladney history!