Recently, Gladney had the pleasure of working with the Children's Medical Center Dallas. Children's helped care for a Gladney baby for six months. During these six months, the staff and volunteers at Children's went above and beyond while we waited for the okay to send this precious baby home with her forever family.
I was more than impressed and thankful for the exceptional services provided by this hospital. There are many wonderful things that can be said about the six months of service. I think one of the best ways to show my appreciation is to give special recognition for each month that we were able to work together.
Month 1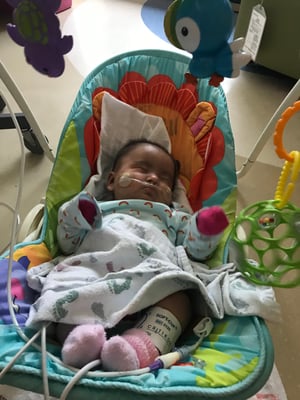 Thank you to Jordan Dugger, a social worker at Children's. Jordan always had a great attitude and worked hard to advocate for this client and situation. She provided anything and everything Gladney was requesting. She set up meetings with doctors, helped provide a better understanding about the situation at hand, and clearly had the client's interest at heart.
Month 2
Thank you to Case Manager Latanja Dulaney. She worked effectively with the adoptive parent caseworker, the Gladney insurance liaison, and with the adoptive parents. She helped to set up services and appointments at the Children's hospital that this family lives close to so they would not be going in with a group of doctors that were not familiar with the situation.
Month 3
Thank you to the 7th floor NICU nurses. You all are so appreciated. There was a rotating staff, and it was clear that every single one of you worked hard to make sure this baby was healthy and receiving top notch care.
Month 4
Thank you to the specialists: geneticists, cardiologists, and therapists. This team went above and beyond. They had numerous phone calls and meetings with the birth parents, Gladney staff, and adoptive parents. Some of the therapists would stop in while the case worker was present and it was clear that they cared for this baby. The caseworker was told that they made sure this baby was rarely alone. They would make sure she was getting all the things our growing baby needs – tummy time, brain stimulation to help with synapses and development, and lots of love and snuggles.
Month 5
Thank you to the NICU pediatrician who handled this case with care and respect. It was clear that everything he knew was being conveyed in a respectful manner to those that were involved. He made sure to be honest and not sugarcoat anything to make it sound better than what it was. His bedside manner was impeccable which just showed how much he truly cares about his clients and that he has a true understanding of people and their emotions.
Month 6
Thank you to the volunteers at Children's. Over the six month stay at the hospital this baby was constantly seen by family, Gladney staff and volunteers, doctors, nurses, and specialists. Even with all of these people checking in, it was so reassuring to know that there were volunteers at Children's that spent time with baby girl. The social worker at Children's set it up so the volunteers would include this sweet girl on their list of babies to love on. The volunteers would get baby snuggles, read and sing to her, and give her the care and comfort that a baby needs at this stage of life.
It isn't often that Gladney gets to be involved with hospitals for such an extended period of time. The level of care and service provided was top notch. Thank you, Children's Medical Center Dallas, for being such a blessing.