Name and Role: Megan Pleshek, LMSW, New Beginnings Caseworker
How long have you worked for Gladney?
I was an intern in the New Beginnings program from August 2019 to June 2020. I became a New Beginnings Caseworker in August 2020.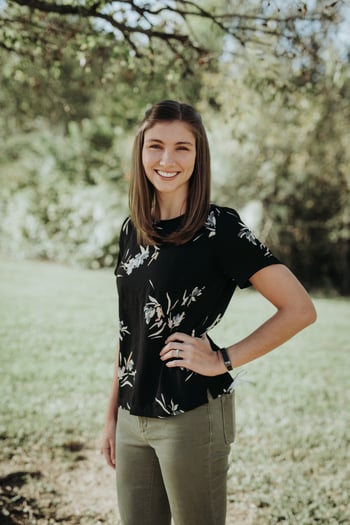 What led you to work at Gladney, and what is your 'why' today?
I pursued my Master's degree in Social Work and my LMSW license because I wanted to work in the adoption field. This led me to Gladney. Although adoption is a complex topic, and my understanding of it is increasingly nuanced, I wanted to work at Gladney full-time after my internship because of the ways adoptions from foster care are changing the lives of families and children.
Describe what a "day in the life at Gladney" looks like for you. Every day may be different, so you can pick a day that comes to mind and share a snapshot of what it looked like in your position.
Every day is different. On a recent Tuesday morning, I began typing up a post-placement visit report at 8:30. At 10:00, I started the day by calling a number of therapists for a family seeking play therapy for their 8-year-old son. I called and emailed a variety of support group options for them as well and then provided the therapy and support group resources to the family. I met with my program's Director, Ashley, at 11:00 via Teams for our weekly, one-on-one meeting. Next, I prepared service plans for three girls in a foster-to-adopt placement, by updating their medical, education, and other relevant information. At 2:30, I drove a little over an hour to that family's home for a service plan meeting and monthly post-placement visit. During the drive, I had a phone call with another adoptive mom to explain the process of having an annual psychological evaluation completed for her children. I had the service plan meeting, which consisted of a video call with myself, the foster-to-adopt parents, a CASA (Court Appointed Special Advocate) volunteer and supervisor, a DFPS (Department of Family Protective Services) caseworker, and an SSCC (Single Source Continuum Contractor) caseworker. I had the monthly visit, which involved talking with the adoptive parents for about an hour and then talking and playing with the three beautiful girls in that placement. Afterwards, at 5:30, I had a video call with the three biological teenage daughters of another family, as part of that family's monthly visit, while sitting in my parked car before driving home. After arriving home, I received a crisis call at 7:15 in the evening from the family of the 8-year-old boy. I called and texted with them off and on for an hour, until they helped their son get regulated and calmed down for bed. Amidst the other parts of my day, I received and returned texts and emails from four other adoptive families. My workday ended at about 8:15 PM.
What is one of your favorite memories from working at Gladney?
One of my favorite memories from working at Gladney is being part of the team that helped facilitate the quick adoption placement and subsequent adoption finalization for a 17-year-old boy, just before his 18th birthday, when he would have aged out of foster care.
In the past year, what is one interesting lesson you have learned through your job?
As an adoption professional, one of the most important things I can do is listen to the voices of adoptees, both adult adoptees and the children on my caseload.
In the past year, what is one rewarding experience that made you feel hope in your job?
I feel hope when I see families adopting through foster care who are able to mentally separate challenging behaviors from the child they're adopting and wholeheartedly commit to their child, no matter what other challenges come their way.