As you are exploring adoption as an option for your family, we are sure that you have many questions. Once a month we ask Thomas & Stephanie a question about their adoption experience.
Adoption Advice
Question:
What is your life like now that you have adopted and what's next in your story?
Answer: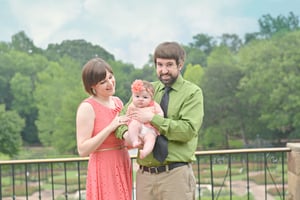 My life has changed so much since my husband and I first stepped onto the Gladney campus. At the time we didn't know how long adoption would take or what our particular story would be like. We only knew that we were on the right path for us. Less than 2 years after that initial visit, I can look back and confirm that the decision we made that day has made us the family we had always hoped to be. I appreciate all the daily acts of parenting, from changing diapers to watching my daughter slowly figure out how to crawl. Every parenting decision I get to make, every late night wishing she would just sleep, every snuggle and kiss I get to experience, it is all made possible by our trust in Gladney. I look forward to watching my daughter grow and flourish; it seems like she has already become so big and so smart.
I am incredibly thankful for the relationship we have built with her birth family, and we look forward to visiting them this upcoming year so that they can see firsthand how beautiful our daughter has become. As she grows, our hope for her is that she understands and appreciates her adoption story. Thankfully, our family's involvement with our local Gladney Family Association will give her friendships with other children who have adoption as part of their story. It feels like a whole new chapter is just beginning, and I am so grateful for every moment.
We encourage you to share this adoption advice with others and find out what advice your social network would provide.