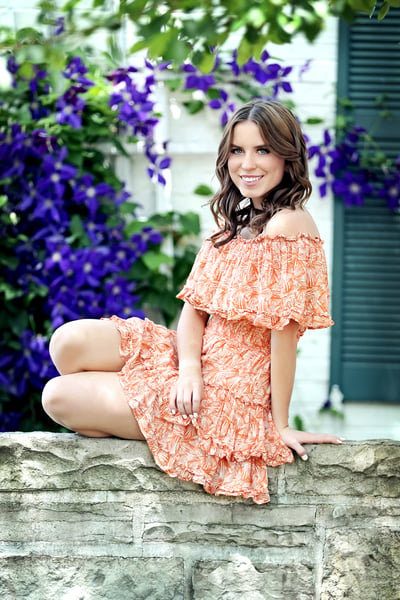 Parent Quote
We will never forget the day we went to pick up Ava from Gladney. We had flown in from out of town the night before with her 13-month-old big sister -- we were all so excited to meet her. It was a hot Texas day in August and we got there a little early to settle in. We were so excited when Miss June – Ava's Birth Mother - walked into the room with a beautiful swaddled baby. At first glance, we could see Ava had gorgeous snowy white skin with tiny freckles on her nose and a headful of light brown hair. We sat down on the couch and just stared at her as she slept; she was so peaceful. It wasn't too far into our meeting when Ava decided to let us know it was time to eat; she had some powerful lungs for such a tiny little thing! With her big personality and gorgeous smile ... at that moment, we knew -- we knew that God had blessed us with a gift and made our family complete! We are forever grateful to Ava's birthmother and are blessed every day with Ava's joyful and spirited nature in our forever family.
From the Graduate
Being adopted has given me so many blessings. I have an amazing mother, father, and sister who I would not trade for the world. My life at the moment is super exciting! I have so many wonderful opportunities on the horizon. I am graduating from high school. I am getting ready to head off to college and am excited about the sorority rush. I am taking this summer to work as an Intern helping with digital marketing needs for a diamond distributor. I love my life and everyone who is involved in it. To me, adoption means many blessings!
About Ava
Ava is smart, witty, and social; she has never met a stranger. A natural leader, Ava can command an audience, and make great things happen. She is kind, caring, and empathic. She works with students with disabilities and has been honored by her school for her amazing ability to connect so well with this community. She is athletic, participating in everything from gymnastics, soccer, and basketball, with her passion-sport being riding horses. Ava plans to attend the University of Alabama in the fall, studying business with an emphasis on Digital Marketing. Her parents can't wait to see what she ends up doing as she is determined to light the world on fire with her creativity, energy, determination, and a little bit of sass.
Write a comment below congratulating Ava on her accomplishments and encouraging her in her future!