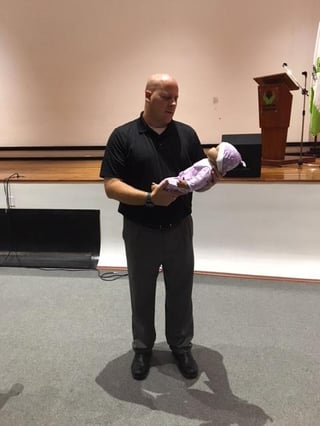 Sometimes in your life you find yourself doing something that you never imagined. Last week was one of those times for me. It all started a few months ago when Frank Garrott, CEO of Gladney, told me he wanted me to conduct a training in Bogota, Colombia for the National Colombian Adoption Unit. Before I could respond, he let me know that he had already promised the training to the officials and to go ahead and buy my ticket.
It's not that I haven't conducted a training before, but I have never done a training internationally and I have never done it in Spanish. Sure I grew up as a missionary kid in Costa Rica and Guatemala, but I have never had formal studies in Spanish. I am great at conversational Spanish, but a training? Yikes. However, as I pondered this opportunity I was reminded of all of our adoptive families. How they courageously go through a difficult process with up and downs, to ultimately change the life of the child. I was reminded that good things in life are usually hard and hard things are usually good. And so I decided to embrace the opportunity. And guess what? IT WAS GREAT!! But not because I was great.
It was great because I encountered a group of one hundred Colombian officials who shared my passion and understanding that every child deserves a loving and caring family. We spoke about brain development, neurochemistry, abuse, neglect, loss and ways to counteract a child's broken history. I saw the tears in their eyes as they recalled children they had served. I saw a group that understood that they had much more than just a job and that their work was changing the life trajectory of the at-risk children. We laughed together, cried together and were reminded of why we do what we do.
So, thanks, Frank, for giving me this opportunity. It's amazing how so many times in life, if we find courage, we experience things we never imagined. Just ask any of our Gladney adoptive families about that.
If you're interested in exploring Colombian child adoption through Gladney, please request Gladney's free adoption information packet today!