According to the latest report published by the U.S. Department of State, International Adoptions continue to decline to the U.S., with another drop reported for 2017. Since the peak in 2004, we have seen an 80% decline in international adoptions to the U.S.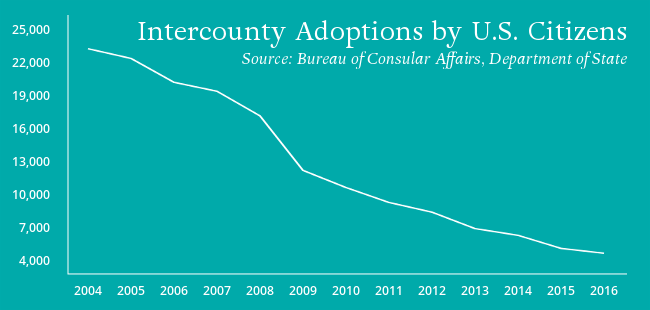 (Graphic Source: National Council for Adoption)
So many questions have been raised about the cause for the decline. As with everything, the cause is multi-faceted. Every government chooses whether to approve international adoption, and then, whether to allow their children to be placed in the U.S. Some countries have experienced an increase in adoptions by their own citizens, which is a goal that is shared by everyone in the adoption community. We all cheer when adoptions increase with families in a child's birth country. However, there are so many children left behind, and those children could find a better life, stability, and unconditional love from being adopted by an American family. Unfortunately, some U.S. families who previously adopted have failed to complete their post adoption reporting obligations to the child's birth country. Some agencies have failed to serve families and children with the highest ethical standards. Some governments have used adoption as a political power game. And most recently, our own State Department has let down families, children, and agencies in their efforts to limit or control the number of adoptions.
For more information about the decline in international adoption, read the NCFA update.