A Gladney Adoption Story
"One morning, my caseworker was on the phone telling me there was a family who wanted to adopt me. I remember crying and feeling shocked and excited at the same time. I was surprised a family wanted a seventeen-year-old as a daughter. How is that possible?

After meeting my new parents, I opened up a little to them and talked about some of my past, which was sorta shocking because I rarely ever tell anyone about it. Something in my heart told me I could trust them. As part of one of our visits, we went to see the movie Tomb Raider, and that's how I came up with my new name: Lara. That was the name of the main character in the movie; and she was strong, incredibly brave, and also very adventurous.

When I moved in with my new family, I made my way to my room, started unpacking, and came to the realization that this would be the last time I ever had to do this because this is finally my home. I don't have to worry about going anywhere for a long time. It was still sometimes hard for me to trust them because of the experiences of my past, as well as self-doubt. I was insecure, and with my trust issues, I had walls built up so high around my heart. I was afraid of things happening and wondered, 'Why me?' out of all the kids in foster care. Why did they choose me? That was until my parents sat me down and told me why. Closer to finalizing my adoption, those insecurities came back. I was really afraid of doing something that would mess it up, and I was afraid I probably wasn't good enough.

After a huge rainstorm, a rainbow always forms in the end. On the day of my adoption finalization, July 13, 2018, I was really excited. Finally, I was in the courtroom with Amy, my CPS caseworker; Brynn, the Gladney caseworker; and a few friends from church. Right as the judge was making the adoption final, I remember seeing my mother crying tears of joy.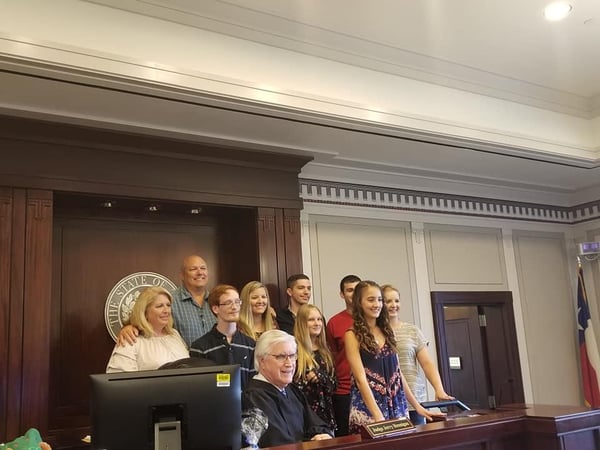 My parents hugged me because I was officially their daughter now. After coming out of the court room, I felt this overwhelming feeling in my heart. I was really happy, but I started crying because I also had my birth family on my mind. I was just happy to have a family who will always love and protect me. That's all I could ever ask for.
People say you're bonded to your family by blood and that you can't ever choose your family. Yes, that is true, but family is family, whether you are related by blood or not. Family is also determined by how your heart feels about people. While living eighteen years on this earth, I have always been afraid to let people in because they either leave or die, and I tend to push away those people who I love the most. Spending five or six years in foster care taught me a lot about that. Among the foster homes I lived in, the two most memorable ones who showed me what family really means were with Irma and with Yolanda and Robert. They each changed the way I saw things. Mrs. Irma showed me the proper love and a wonderful mother/daughter experience, while Yolanda and Robert put me in my place and opened my eyes to the world. They cut away the bad and brought peace. I'll never forget them.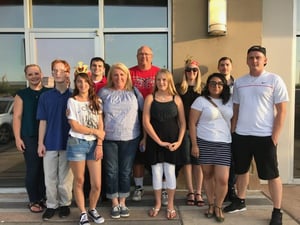 The most special moment that showed me what I needed was when my mom and dad took me in their arms and just held me. I felt the war in my heart starting to fade away and just felt their unconditional love. Even to this day, I could not be happier. I am truly happy I said yes to joining their family because I honestly don't know who I would be today if I hadn't said yes. I was afraid back then, but this turned out to be the best thing that has ever happened to me. It is truly an unbelievable miracle that has changed my life forever. To the kids who are thinking about being adopted, yes, it may be scary at first, but trust me whenever I tell you it will be the biggest blessing you'll ever receive from God.
I'd like to thank my Mom and Dad and the rest of my family for always being here and giving me this opportunity to be a part of your family. I love y'all. Most of all, I'd like to thank Gladney and Amy, my CPS caseworker, for seeing what you saw that day in me and telling my parents about me."
~Lara
Gladney Adult Adoptee
P.S. Read my parents' version of our adoption story.