Deprive our darling child of his nap and stick him on a plane for 2.5 hours and he's not so darling. He howled like a banshee nearly all the way to Guangzhou. He wet himself and peed on me. He threw a toy, a cup of water, a pickle covered in mayonnaise, and my phone. The toy beaned the nice man across the aisle. He screamed because he couldn't go into business class. He screamed because he wanted a Coke. He screamed because he was being held. He screamed because he wasn't being held. He screamed because the window shades were open. He screamed because he had a seat belt on. He screamed because a nice blanket was placed upon him. He stopped screaming long enough for deplaning and baggage claim. Then in the van to the hotel he lunged forward to grab the stick shift, so I had to hold him again, so he started screaming again. After about thirty minutes, he finally, finally fell asleep. It was 6pm.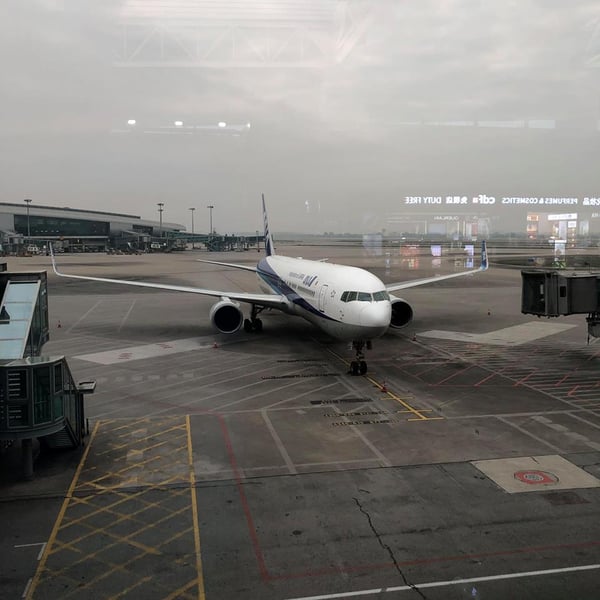 The next day was medical examination day. We spent the morning at a clinic of some sort. The medical exams reminded me of Army in-processing, except with squalling toddlers instead of squalling cadets. There were a series of stations through which the kids passed: height and weight, ENT, general physical, and the dreaded blood draw. The weight part was interesting and confirmed what I already know, which is that our son is unusually tiny: in the 21st percentile of American children of the same age, and in the 17th of Chinese. Fortunately, his ravenous eating will in time rectify that. The rest was fairly routine, excepting the blood draw, which was the one room parents were forbidden to enter. They took the children in, shut the door, and you listened to them shriek in terror for a few minutes until they emerged in tears. Roy, who needed to give more blood than most, was no different. I gave him a lollipop when he came out, bawling in pain and fear, and we sat together and rocked quietly until he calmed enough to stop crying.

The various medical tests will take two days. The boy and I will see local things in this area of Guangzhou tomorrow, likely the Guangdong Museum and the Guangzhou library, although there is also a reasonable chance we will watch children's television all day and order room service.

On the medical tests, the big item to watch for is tuberculosis. There is a small but meaningful possibility that a child with a positive TB diagnosis will be denied entry to the United States pending a weeks-long course of treatment, in which case I will become a long-term resident of Guangzhou and finances will become complicated. Nevertheless it is just one of the things you know going in. We will see shortly.

The upside of the clinic experience was seeing all the other adoptive parents and their children. There is a pretty broad range of individuals present, with a pretty broad range of children. Some of them are adopting children with serious medical needs, and it is moving to see. It was distressing, on Thursday, to see the children remaining at Roy's orphanage; but it is heartening today to see so many people from nearly everywhere across the United States who are stepping up to look after some children who, in some cases, may never be able to look after themselves. They really are admirable to me, and I was glad to be in their company today.

Total cost for the day: 1,700 yuan, which my guide had to pay for me because I can't find an ATM here to save my life. This is much more noticeable in 2019 than in 2016, both in Guangzhou and elsewhere: the mass adoption of e-pay apps, via WeChat or Alipay, is so advanced that the use of cash is nearly gone, and the use of debit or credit cards is diminishing fast.

We spent the morning in the hotel room just playing and watching some. We explored the huge underground mall a bit, which is packed with interesting-looking food joints — my favorite is called "Charming Grilled Fish" — and centers upon a sunken plaza that leads up to the main thoroughfare. On the thoroughfare were three things I wanted to see: the Guangzhou Library, which is newly constructed and has a children's area; the Guangdong Museum; and the Guangzhou Children's Palace. We got into the library fine, and it's gorgeous and huge, but we were denied entry to the children's area: you need to have a library card for that. We couldn't get into the Guangdong Museum because the ticket seller wouldn't sell me tickets without my passport. And we couldn't get into the Guangzhou Children's Palace because you need some sort of school card for entry. So all in all, a total bust, and I ended up just letting Roy run amok on the big thoroughfare. He was very happy. Tomorrow: medical results and, I am told, pandas.

Today we learned we had a positive tuberculosis test, so we had to go for a chest x-ray today. Could be nothing, or could be the start of a fairly significant complication – we will see. Later that day, good news-we are good on tuberculosis. A digital(!) x-ray shows no spots on the lungs, which means he has been exposed to the disease, but not likely infected. So all is well! At dinnertime….This imperious little boy has discovered French fries and now refuses to eat anything else.