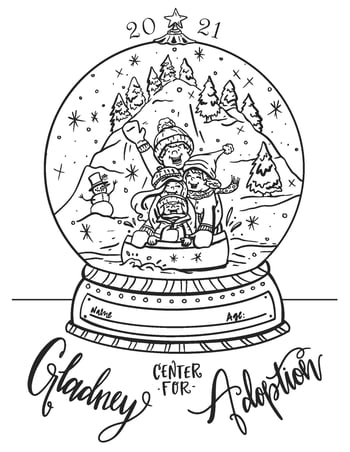 In our house, we have many holiday traditions. We get our Christmas tree the day after Thanksgiving, we attend our local Gladney breakfast with Santa, and we bake! This year, I hope you'll join us as we add a new tradition—having our kids submit an entry for Gladney's holiday card.
Every year, some friends of Gladney get a holiday card, and your child's creation could be featured! One entry will be chosen, and all entries will be posted on social media for viewing.   
To participate:
Please write your child's first name and age on the coloring sheet as you'd wish for them to be published.

Email scanned digital submission (colored sheet and entry form) to natalie.bowen@gladney.org.
Happy coloring! I can't wait to see all the entries!  
Stacey DeStefano
Gladney Adoptive Mom of 2
Communication Vice President, Gladney Family Association National Council