Hi, my name is Alex and i'm learning the ropes of International Adoption from Colombia. I am a Senior at Texas Christian University (Go Frogs!) getting my undergrad degree in Social Work with a minor in Child Development. I fell in love with the idea of working in foster care and adoptions when my brother and sister-in-law decided to foster three children not too long ago. So far I have been able to see some exciting things here at Gladney and I am thrilled I get to share my experiences with you.
During my first few weeks here I have learned what and Apostille is and how to request one (even from Canada!), shadowed a New Beginnings home visit and Attended new employee orientation, domestic infant adoption orientation and pathways Training. I have gained so much knowledge just from these few events and this is not even the full list of what I have completed.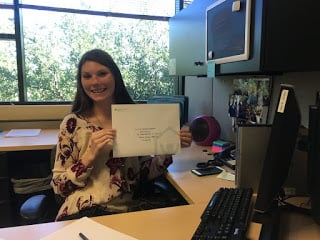 One accomplishment I am most proud of would be learning how to get a document authenticated in Canada. This may not sound like the most glorious assignment, but it was an adventure none the less. Canada does not comply with the Hague Convention so getting a document Apostilled is not an easy task. This road block led me to a million different websites trying to find a Canadian courier who would take a document to the foreign affairs office in Ontario Canada. Now, as a brand new intern I was already confused about the Apostille process and on top of that I had to learn what a courier was and how to find one. After days and hours of searching, I found the golden number, I called Canada and Shawn picked up. Shawn told me, "Oh it's easy aye," and the rest is history. The document is currently on its way back to the Gladney Center with a seal of authentication.
One of my more recent experiences here at Gladney would be attending Pathways Training. Unfortunately, because of of school, I was only able to attend the second day of training. Even with only experiencing half of the training, I feel as though I have a better sense of the traumatic backgrounds of the children we serve. The biggest concern of bringing home a child with a traumatic background would be to make sure they feel safe in the home and with the people around them. One concept that stuck with me through the training would be that this process of felt safety in a child can take a long time. I think that this training was more than beneficial for me to see as an intern because it gave me insight to a part of the adoption process I don't often get to see in my department.
So far, I wouldn't change my placement here at Gladney for anything. I am given new opportunities and experiences every day that I spend here. Since I have been here, I have yet to meet a Gladney staff member I do not enjoy being around. I can truly say I feel welcomed into the Gladney family and I cannot wait to see what these next two semesters (and beyond) have in store for me!
. . . . . . . . . . . . . . . . . . . . . . . . . . .
If you have any questions about adoption, know someone facing an unplanned pregnancy, are considering adoption yourself, or just want to get involved and/or educated on the subject, please don't hesitate to contact Gladney. We would love to talk to you!