Introducing.....Josie! Josie is about to celebrate her 6th birthday and in many ways is just like any other 6-year-old girl. We have several photos and videos of Josie that we can't share publicly, so keep reading to learn more about Josie and how to request her profile.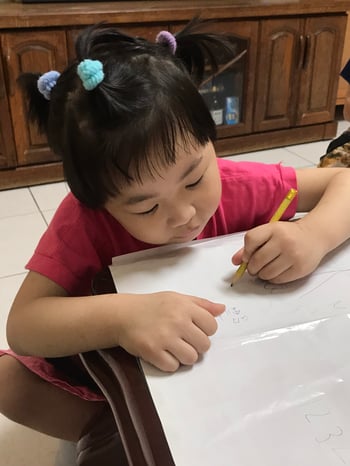 Josie's foster mother says she is smart and a quick learner. Josie is usually cheerful and active, however she can be shy and more observant when strangers are around. She has a steady routine throughout each day and sleeps well at night. Josie is not a picky eater and has a good appetite. We hear that she tends to like soup and side dishes the most, but occasionally needs to be reminded of the warm temperatures. Josie particularly likes the outdoors, and always enjoys the slides at the park jungle gym. From the information and stories that we have from Josie's foster mother, we can tell that Josie is a determined little girl. Josie has been diagnosed with mild CP and developmental delays. After she was placed with her foster family in early 2018, she received 7 early intervention sessions a week (PT, OT, ST) and attended preschool since June 2018 for environmental stimulation. Josie has continued to make progress developmentally. At present, she receives 3 early intervention session a week (PT, OT, ST) at her teacher's suggestion. She also wears corrective shoes outdoors. Could you be the right family to support Josie as she reaches developmental milestones?
Please contact superkids@gladney.org to inquire about this darling little girl! Also, be sure to join our Taiwan Waiting Child Advocacy group on Facebook to see Josie's adorable photos!