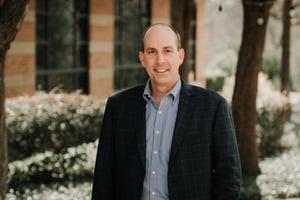 I joined Gladney on April 1, 2008 (April Fool's Day–appropriate!) as the Chief Development Officer. The agency was in transition at that time, as the development team had just been relocated from the Gladney Fund to the Gladney Center. I later began working with different departments throughout the organization and eventually became the Chief Operating Officer. Eighteen months ago, I took the reins as President and CEO. I have worked in the nonprofit world for the past 24 years, and I'm continually amazed by the generosity of our society. I have learned over the years that people are motivated to make a real impact. It has been my job to tell the story and show how a person's support can change lives. At Gladney, we have the privilege of doing that every day.
The adoption journey is never a straight line, and occasionally, challenges do arise. Each day, I'm amazed by our staff's dedication to our mission and the lengths they will go to overcome these challenges—all to create a forever family!
My role as Gladney's CEO is part strategic planner, part story teller, and part cheerleader.
Strategic planning:

I have learned over my time at Gladney that a clear vision is the best motivator and helps to answer the hard, directional questions. "Is this in the best interest of the child?" This question guides our decisions and helps us to plan our next steps.

Story telling:

This happens at every turn. While talking with an adoptive parent, a donor, or someone at the grocery store who asks about my Gladney t-shirt, the stories of our clients—adoptive families, birth parents, and children—describe Gladney better than a brochure ever could.

Cheerleader:

This happens daily around Gladney. I see it in the ways all our staff recognize great accomplishments at staff meetings, empathize with a caseworker at the end of a hard day, and reach out to offer encouragement through a phone call with a family who is wondering how much longer their wait will be.
At the end of the day, all the parts of my role lead back to one thing: there are too many children in this world who need a loving, caring, and permanent family; and it's our responsibility to solve that problem!