Gladney's Superkids team met Kash in Taiwan in April of 2019 and we are excited to announce that we have just received significant updates to his file! We now have extensive photos and videos of Kash that show his personality, him performing tasks that capture his fine and gross motor abilities, him playing games, and much, much more!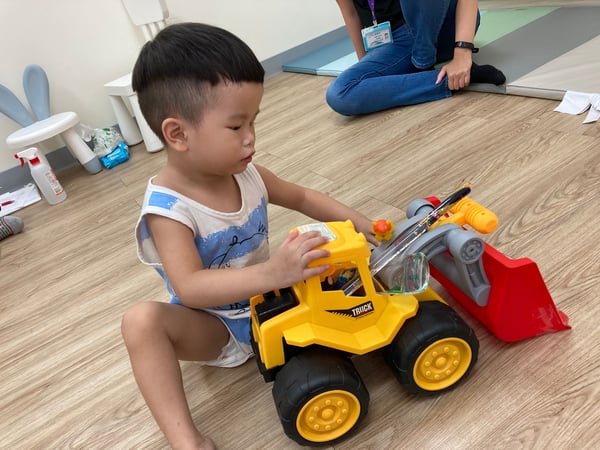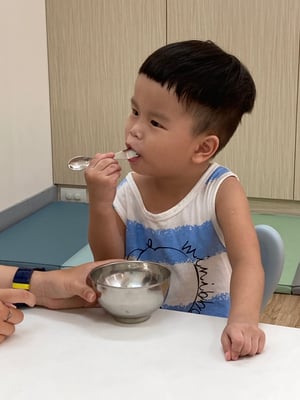 Since his last advocacy post, we have received many updates and learned so much more about 3 year old Kash! As you already know, Kash was walking, running, and following simple directions when we met him in Taiwan. Our updates indicate significant improvements have been made since then! Kash is now able to walk up stairs with no assistance, walk down stairs with little assistance, and follow more complex instructions such as 'give it to the teacher', and 'help me clean up'. Little Kash responds so well to encouragement and praise. When he is performing well at a task or game, he will clap for himself and smile! You have to see the cute videos!
Kash's original file indicated gastro-esophageal reflux disease and we are pleased to report that our updates reflect improvement with this as well. Kash has an extensive early intervention treatment plan, including physical and occupational therapy, three times per week. Kash is starting to eat more solid foods, improving his biting and chewing of solid foods when prompted and reminded, and showing more motivation with speech imitation. Kash is also diagnosed with epilepsy which is monitored closely. Fortunately, we haven't received any report of epileptic episodes in our latest updates and he continues to attend visits to the Neurology department every 2-3 months for follow-up and monitoring.
Kash has also begun saying the words 'mom', 'help', 'ok', 'milk', and others! Our updates tell us that he is now more willing to cooperate and less emotional when things that are restricted are taken from him. Aren't you so proud of little Kash?
Please join us tomorrow, August 18th at 12pm EST, on Facebook live as we meet with Gladney Superkids team. You can expect to learn more about Kash and his new updates, as well as have the chance to ask questions during our live Q&A session! You can access Facebook live from Gladney's Superkids page. Also, be sure to join our Taiwan Waiting Child Advocacy group on Facebook to access his adorable photos and videos! Please reach out to Mary Chapman at mary.chapman@gladney.org if you are interested in learning more!