Kellan is described as a lively, cuddly child. To view his original post, click here. Kellan was seen by virtual SuperKids in February 2022 and wow, he has developed into a happy kid, loving to learn new things and share his knowledge! Shy and reserved around the video camera, he was hesitant to sing for us but did hum the tunes of Paw Patrol while playing and interacting. Some of his favorite cartoons are Paw Patrol, Robocar Poli, Masha and the Bear and Shimajiro!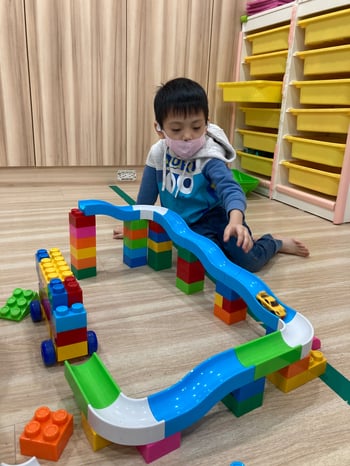 Kellan is almost 5 1/2 years old and learning in kindergarten class. He is now able to participate in sports, ride a bike, paint, build towers, and enjoys watching cartoons. He is receiving early intervention services and has an IEP, with goals of maintaining focus while in groups, improving fine motor skills and interpersonal interactions- all goals he is working hard to achieve! He receives weekly speech therapy.

On a recent outing, Kellan was able to go to Yehliu Ocean World to watch the dolphin and sea lion show. He really enjoyed this experience and seems to enjoy learning about animals and nature! How amazing would it be for him to be home next years with his forever family, enjoying theme parks, aquariums, and the zoo?!

Kellan is progressing in multiple areas, including language and motor skills - he enjoys singing songs, counting to 30, and working on fine motor skills such as using scissors. Kellan has received speech services for since 2019. While he is working on various goals, there have been gains as he is able to shown ability to problem solve, and speaks in more complete sentences! Kellan responds to reward and encouragements in his day to day life. He is encouraged by receiving stickers when he learns something new!

Kellan has quite the sweet tooth! He likes cakes, cookies and pudding. He shared that they are yummy treats and shares his treats with his caregivers. Kellan wants to bake and eat cookies with you! To review his profile, which include birth family and social history, please reach out to Superkids@gladney.org! Also, be sure to join our Taiwan Waiting Child Advocacy group on Facebook to see more photos and videos!