Celebrate Black History Month by offering your child an opportunity for dialogue, self esteem and engagement with the following must have books on their bookshelf!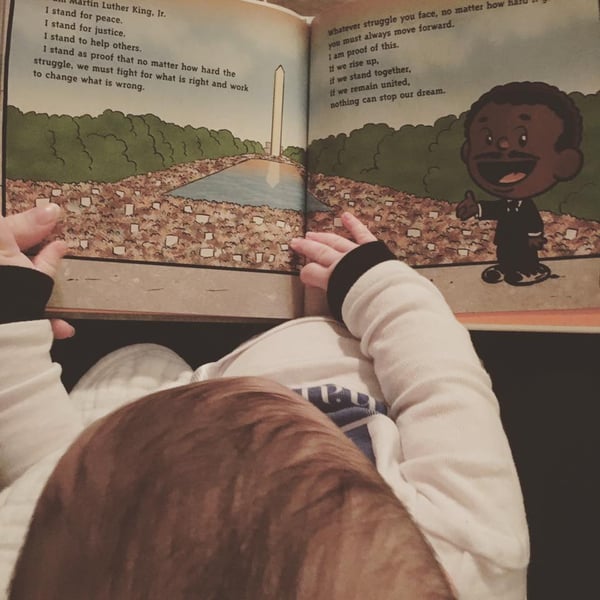 Dream Big, Little Leader
This beautifully illustrated book showcases women who changed the world.
Featuring 18 trailblazing black women in American history, Dream Big, Little Leader is the irresistible board book adaptation of Little Leaders: Bold Women in Black History.
Ages 4-8
Dream Big, Little One
This beautifully illustrated board book edition of instant bestseller Little Leaders: Bold Women in Black History showcases women who changed the world and is the perfect goodnight book to inspire big dreams.
Ages 2-4

I Am Enough
I Am Enough is the picture book everyone needs, and it's now a New York Times bestseller and the picture book winner in the Goodreads Choice Awards!
This is a gorgeous, lyrical ode to loving who you are, respecting others, and being kind to one another—from Empire actor and activist Grace Byers and talented newcomer artist Keturah A. Bobo. We are all here for a purpose. We are more than enough. We just need to believe it.

Ages 4-8
Little People Change the World

"We can all be heroes" is the message entertainingly told in this picture-book biography series from #1 New York Times Bestselling author Brad Meltzer.
Ages 5-8
I am Rosa Parks
I am Jackie Robinson
I am Martin Luther King Jr.
Touch the Sky
Ann Malaspina
"Bare feet shouldn't fly. Long legs shouldn't spin. Braids shouldn't flap in the wind. 'Sit on the porch and be a lady,' Papa scolded Alice." In Alice's Georgia hometown, there was no track where an African-American girl could practice, so she made her own crossbar with sticks and rags. With the support of her coach, friends, and community, Alice started to win medals. Her dream to compete at the Olympics came true in 1948. This is an inspiring free-verse story of the first African-American woman to win an Olympic gold medal."
Ages 4-8
The Barber's Cutting Edge
The Barber's Cutting Edge is a touching celebration of the close relationship between a young African American boy and his community mentor. Jam-packed with little boys, big boys, dads, and neighbors, Mr. Bigalow's barbershop is a familiar place to talk, to play dominoes, to read, and in Rashaad's case, to get a little extra help with his schoolwork. Not only does Mr. Bigalow know all the latest styles, he also knows all the words on Rashaad's vocabulary list. Whether it's haircuts or words, Mr. Bigalow is the best at what he does. He is also a friend and a role model and as Rashaad puts it, "one cool dude."
Ages 6-8
The Colors of Us
A positive and affirming look at skin color, from an artist's perspective.
Seven-year-old Lena is going to paint a picture of herself. She wants to use brown paint for her skin. But when she and her mother take a walk through the neighborhood, Lena learns that brown comes in many different shades. Through the eyes of a little girl who begins to see her familiar world in a new way, this book celebrates the differences and similarities that connect all people.
Karen Katz created this book for her daughter, Lena, whom she and her husband adopted from Guatemala six years ago.
Ages 4-8
Happy Hair
Happy Hair is a call and response picture book that promotes positive self-esteem and hair love to girls of all ages! Happy Hair covers different shades and hair types all while being fun and fashionable! This book is the foundation to building Happy Hair.
Ages 4-7
When God Made You
From early on, children are looking to discover their place in the world and longing to understand how their personalities, traits, and talents fit in. The assurance that they are deeply loved and a unique creation in our big universe is certain to help them spread their wings and fly.

Ages 3-7
Ada Twist, Scientist

Inspired by real-life makers Ada Lovelace and Marie Curie, this beloved #1 bestseller champions STEM, girl power and women scientists in a rollicking celebration of curiosity, the power perseverance, and the importance of asking "Why?"
Ages 5-7
A Child's Introduction to African American History

A comprehensive, entertaining look at heroes, heroines, and critical moments by award-winning author Jabari Asim, The Child's Introduction to African American History is written for young readers aged 8 to 12 and includes a timeline poster of pivotal moments.
Named one of the best books of 2017 by NPR, the Huffington Post, Publishers Weekly, Kirkus Reviews, the Los Angeles Times, the Boston Globe, the Horn Book Magazine, the News & Observer, BookPage, Chicago Public Library, and more
Crown: An Ode to the Fresh Cut is a high-spirited, engaging salute to the beautiful, raw, assured humanity of black boys and how they see themselves when they approve of their reflections in the mirror.
Ages 3-8
All book descriptions were provided by Amazon.