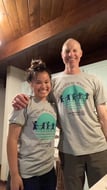 As the Gladney Superkids Team of Volunteers gets ready to travel to Florida this weekend to volunteer at the 2022 Special Olympics USA Games, I was thrilled to be contacted by an adoptive father asking for a photo of a child in China to advocate for while running in an upcoming triathlon. He and his daughter are proudly wearing Gladney Superkids t-shirts!
Brad has a heart for adoption advocacy. Please take a minute to read his story ...
---
"Adopting my daughter from China was the best experience of my life. The long months of paperwork, home studies, and anxiously waiting were all worth it when I was finally allowed to hold my 15 month old daughter for the first time. She is 16 now, and we survived a lot of rough experiences with Reactive Attachment Disorder, learning challenges, and anxiety about being the only kid in her class that looked like her. There were plenty of good times mixed in with the hard, and it was all worth it. My daughter is now very mature and healthy all the way around.

Adopting again is no longer possible for me, but God has sent me on a new adventure to try to make it easier for another family to adopt. I am combining my love for triathlon with my love for adoption and joined the RODS organization. RODS focuses on finding families to adopt children with Down Syndrome and helping those families with some of the financial expenses. I am using triathlons to get the word out about Eliza Jane, a little girl from China who needs a family to take her home.

If you are reading this and wondering if adoption is right for you and your family, I would say from personal experience that it is totally worth it!!"
Brad Bliek
Adopted Internationally through Adoption Associates