Gladney Superkids has just received updates on sibling group Julian and Jordyn! We are now able to share more information on their personalities, school life, likes and dislikes, and much more! Keep reading to learn more and be sure to join our Taiwan Waiting Child Advocacy group on Facebook to see new photos and videos! To view their previous blog post, click here.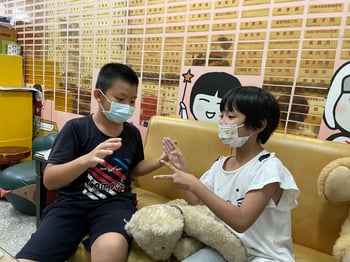 Now in November of 2021, Jordyn is almost 7 and a half years old. She is a lively girl and is not afraid of strangers. Jordyn takes initiative to talk and to play with her classmates. She also likes sharing about her interesting days with others. She has her own ideas and often lets her imagination run unconstrained. What a creative young girl!
Jordyn is not a picky eater and typically has a good appetite. She always falls asleep quickly and sleeps soundly throughout the night. Her self-caring ability is good. She can wash her clothes, clean her lunch box, and tidy her room as well. Jordyn is able to complete most of her homework by herself.
At school, Jordyn complies with the rules. Her favorite subjects are liberal arts, painting, and physical education. She has many opinions during group discussions, but she also has respect for others. Jordyn always gets along with her peers, and they interact quite well.
Jordyn's brother Julian will be 10 years old soon. He is a lively and polite young boy and likes to make friends. He not only will invite peers to play with him but also shares what he has seen or heard throughout the day with others. Julian has his own opinions and is assertive and good at expressing himself. He also asks questions actively when he doesn't understand.
Julian loves outdoor sports such as playing ball, bike riding, and staying in good physical condition. He is full of imagination! When assembling LEGOs or drawing a picture, he is able to generate creative ideas or works of art. In the summer of 2021, Julian expressed his desire to make videos that introduce basketball, cycling, and teach others his knowledge about biking such as rules, basic skills, and the structure of a bicycle. Julian energetically participated in and expressed his thoughts throughout this process and we even have few samples of these videos!
In terms of homework, Julian can generally do it all by himself. Once in a while, he may forget to copy the contact book or to bring homework back to school. During the epidemic, online courses are going generally well, but sometimes he has played video games secretly while online. Julian's amazing caregivers and educators are working with him to guide him through problem-solving skills, gaining a sense of responsibility, having respect for others, and self-regulating his emotions.
Julian and Jordyn lived together with their birth family for the first several years of their lives. They are now living in separate foster families but communicate regularly at school and still get together occasionally. Both Julian and Jordyn are aware of and are being prepared for international adoption. Julian wishes to find a family that will keep him together with Jordyn.
If you are interested in learning more about this special sibling group, please contact superkids@gladney.org.